Message of the Principal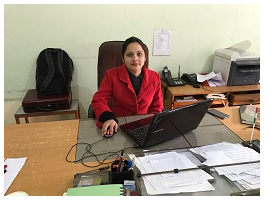 "Success comes to those ,who work hard and stays with those, who don't rest on the laurels of the past". It is my proud privilege to warmly welcome you into the portals of this learning community Shaheed Kartar Singh Sarabha Int. Public School", dedicated to develop skilled/ outstanding students who can pursue their interests and strengths to the best of their ability so that our enriched students merge into the society building a strong generation for a better world tomorrow through dynamic education. Our curriculum, course offerings, co- curricular offerings aim towards growth of our students. Our school is a home where students strive to be academically proficient, socially conscious and technologically adept global citizens, who would value and respect all life around them without distinction and discrimination .
I believe that in promoting the success of each student we must open our minds and hearts. Each student comes to school excited to learn and it is our goal to sustain that excitement. Our task is to capture the children's imagination, extend their abilities and enable their potentials to unfold. Aristotle once said that, "Educating the mind without educating the heart is no education at all. " We pride ourselves to help them grow and develop into sensitive and responsible citizens of the future. We fortunately have a committed and supportive management, dedicated teachers, caring and co- operative parents. It is natural to find in this ambience, the intensive use of a variety of thinking activities, strategies and group dynamics so that the classrooms become alive. A pivotal role of education lies in shaping the personality of a child into a healthy mind and happy soul, who is not only equipped with 21st century skills and aptitude required for academic excellence but helping him face the challenges of life in a balanced and harmonious way.
Teamwork is the hallmark of S.K.S.S. Int. Public School. I am very sure through collaborative effort we can achieve more to benefit our students who are future leaders of tomorrow.
With Sincere and Warm Regard
Amanpreet Kaur
Principal
Thought for the day :
Education is the most powerful weapon which you can use to change the world.