KG Wing
Our KG Wing: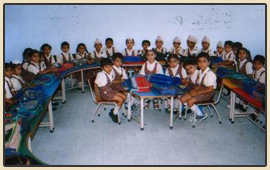 1. The school K G wing is having colourful furniture which can be adjusted in different shapes, for various activities i.e. Long Raw, Hexagon , Square or Round Table can be formed by adjusting the K G wing furniture.
2. All class rooms walls are covered with learning Posters, charts and Art Work.
3. The small kids class rooms are having attached Bath Room.
4. Each KG Section is having caretaker to care the kids.
Thought for the day :
Education is the most powerful weapon which you can use to change the world.