Message from the Director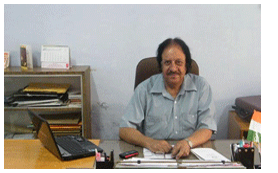 SKSS International Public School is an English Medium, Co-educational Senior Secondary School affiliated to CBSE New Delhi. The School has been set up by the Human and Educational Development Council (HEDC) a registered Charitable Trust and an associate of many International organizations (UNESCO, Common Wealth, British Council, NASA, ENO etc)
We believe that "All children born alike and have the right to develop his / her abilities. To make them ready to face the world as responsible and thinking member of a diverse society and to shape them to live comfortably, we need good schools.
The child in the school is inmost impressionable age and whatever he / she perceives goes a long way in his / her later life. School is a workshop to unfold the hidden intelligence of a child. School must examine carefully what disciplinary and interdisciplinary content will most benefit students. Identifying and structuring content which has the greatest potential for student developments is an important starting point for school model.
SKSS International Public School is a School of new millennium for the said purpose.
Professional status and motivation of school / teachers have been declining while expectations of parents, employs and others towards teachers and school are steadily on the increase. Only efficient human resources management in the education sector can help redress the situation.
Thought for the day :
Education is the most powerful weapon which you can use to change the world.