School Management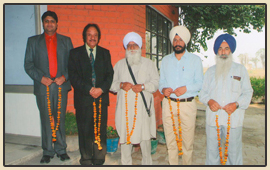 The School is being run by Human and Educational Development Council – a registered Charitable Trust, registered with Income Tax Department India. Initially the Trust had six numbers, later on some more likeminded people joined and some resigned because of their busy schedule. Presently the Trust is having 7 members. The Chair person of the Trust is Mrs. Rupinder Kaur
The Trust is responsible to provide Basic infrastructure and amenities to the School. For routine working of the School a Managing Committee has been formed as per CBSE norms. The term of Committee member is for Two years. Mr. Harminder Singh Grewal is the Manager of the School managing Committee.
Thought for the day :
Education is the most powerful weapon which you can use to change the world.